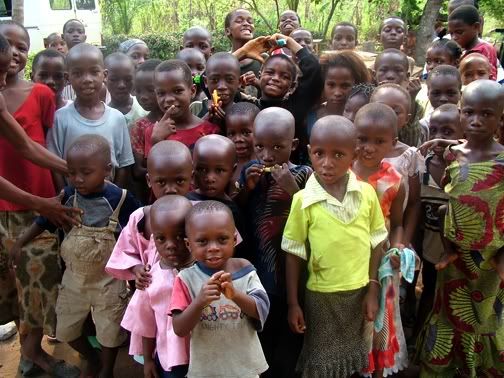 SERVANTS EVANGELIZING TO THE WORLD, INC.
SUPPORT LETTER
Travels to Africa (Support) Photographer Calvin Evans Mission trip with (S.E.W.)
Date 9/22/2010
Dear Exclusive Photography & Calvin Evans Photography Group Supporters,
I have some exciting news to share with you. I am going on a Short Term Mission Trip to Africa!
This is an amazing opportunity to be a part of the work God has called us to do. I will be joining Servants Evangelizing the World (SEW),
a local missions organization that is uniting believers from various denominations and churches to provide both spiritual and economic relief in Kenya. I will be the principle documentary photographer on this mission trip, each night I will be uploading amazing images from Africa to share with each person that has chosen to be a supporter of this mission.
This is the 9th mission trip SEW has undertaken, and much has been done in Nairobi, Nakuru, Embakasi and Eldoret, Kenya.
Would you consider partnering with me by prayer and giving? The total cost of the trip is $ 4,800. This covers my airfare, lodging and
in-country travel. I would love for you to be a part of my "prayer and giving" team during this trip!
I look forward to hearing from you within the next week or two. There are deadlines that must be met, and I need your help to do this. It will be great to share with you upon my return. Realizing that everyone can't go, this is an opportunity for others to join in this journey for the work of the Lord. This is what I have been called to do so I consider this trip to be a very important journey. To all that are able to support, "sponsors" will be updated with photo's & images of the trip daily. Sponsors will also be given, a free photo shoot upon my return & 18x24 poster size prints of images that I shoot in Africa.
Thank you for your help.
Yours in Christ, Photographer Calvin Evans
Please read the information below and reply to me by email @ calvin.evans.career@gmail.com
if you would like to be a supporter of my travels to Africa please fill out the information below along with your company name & logo to be place on the banner for the gallery show I will be holding after my travels through Africa are complete.
~RETURN THIS PORTION WITH YOUR DONATION~
Yes! I would like to partner with you prayerfully and financially to participate in the 2011 Kenya Mission Trip to Africa. My tax deductible gift of $_________ is enclosed.
Partner/Donor's Name: __________________________________
Mission Participant's Name: Photographer Calvin E. Evans
Email the information attached above to: calvin.evans.career@gmail.com
Title Sponsorship: $4,000
1. Will be given a leather perfect bound photo album of all the images that photographer Calvin E. Evans takes in Africa
2. Online photo gallery of images to share with family and friends of each image/ photo taken in Africa
3. Daily photo & video updates while in Africa shared through private email links
4. Free photo shoot upon my return from Africa for your company or business
5. Company Logo & business name placed on banner for gallery showing of Images of Africa photo's/ images by Calvin Evans
6. Free admission to gallery show of Images of Africa By Calvin Evans
7. 18x24 poster size print of selected images that I shoot in Africa.
Visionaries Sponsorship: $2,000
1. Will be given a leather perfect bound photo album of all the images that photographer Calvin E. Evans takes in Africa
2. Online photo gallery of images to share with family and friends of each image/ photo taken in Africa
3. Daily photo & video updates while in Africa shared through private email links
4. Free photo shoot upon my return from Africa for your company or business
Ambassadors Sponsorship: $1,000
1. Will be given a leather perfect bound photo album of all the images that photographer Calvin E. Evans takes in Africa
2. Online photo gallery of images to share with family and friends of each image/ photo taken in Africa
3. Daily photo & video updates while in Africa shared through private email links
4. Free admission to gallery show "Images of Africa" By Calvin Evans
Patrons Sponsorship: $500
1. Online photo gallery of images to share with family and friends of each image/ photo taken in Africa
2. Daily photo & video updates while in Africa shared through private email links
3. Free admission to gallery show of Images of Africa By Calvin Evans
Associates Sponsorship: $100.00
1. Online photo gallery of images to share with family and friends of each image/ photo taken in Africa
2. Daily photo & video updates while in Africa shared through private email links
Supporters: $50.00
1. Online photo gallery of images to share with family and friends of each